Kim has an expertise and a true devotion to women of all ages, but particularly those midlife and beyond.
As a business and professional life coach Kim is also a licensed clinical social worker and a Professional Certified Coach (PCC) through the International Coach Federation.
After 23 years of very successful Private Practice she retired from this particular business in 2009 to fully pursue her coaching business.
Kim has been a senior International Trainer at Mentor Coach (www.mentorcoach.com) since 2005, is an author, speaker, workshop and Teleclass leader and radio guest.
She is a graduate of Dr. Martin Seligman's Authentic Happiness program as well as a student of Chris Peterson, Sonja Lyubomirsky, Robert Emmons and other prominent Positive Psychology experts, she considers herself a 'strengths based coach." All of this results in a belief and a value system consistent with gratitude, optimism, a love of learning not just for herself but for all others.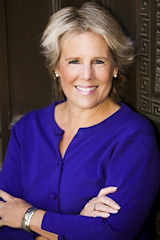 Kim is a gifted and intuitive coach who empowers women to embrace all life has to offer in this 3rd stage of life.  As a business coach and solo-entrepreneur she helps women build strong coaching businesses while maintaining a life of balance.
As important as having a financially thriving business is to women for their secure future, family, friendships, health and wellness must be a priority. It IS possible to for this 'non-financial' side of 'retirement' to blend with the 'fiscal responsibility' side.
Kim has traveled the world, is an avid fan of yoga and lives in the foothills of Denver with her husband and 3 golden retrievers, Hannah, Isabella and Bud III.
Her two 'twenty something' daughters live on their own, have full time jobs with benefits and are off the payroll.
What are you going to do with the rest of your life?
What are you waiting for?
Education/Training/Certifications:
B.A. in Elementary Education
Lake Erie College, Painesville, Ohio
M.S.W. Masters in Social work
Emphasis on Treatment Modalities
University of Denver, Denver, Colorado
PCC (Professional Certified Coach)
ICF (International Coach Federation)
MentorCoach™ International Trainer
Authentic Happiness Graduate
CMMS®: Certified Money, Marketing and Soul Coach through Kendall Summerhawk
Advanced Studies in Positive Psychology with Marty Seligman, PhD; Chris Peterson, PhD; Robert Emmons, PhD; Sonya  Lyubomirsky, PhD.
Too Young to Retire Certification
Retirement Options Certification: RSP (Retirement Success Profile) and Life Options Profile
International Association of Women Business Coaches Member
Victory Circles Member
Foundational Support, Encouragement and Guidance for Women Entrepreneurs on the Grow